Textile, a miracle! a country's soaring economic parameters! A journey from zero to a multi-billion dollar company enthralled the globe. This transformation involves professionalism and better cognitive abilities equipped with the right reasoning capacity, swift decision-making capability, and prompt reaction to difficulties that occur, leading to the most feasible business solutions.A sector that leverages inventive abilities beyond their scholastic expertise. To enter this field, a student must be trained as a competent entity.That is when the BUTEX Business Club is delighted to present TEXPRES. This year it returns with its Inter University textile based business case competition, presenting TEXPRES 2023!
TEXPRES has been created to strengthen your scenario evaluation abilities and mass information handling by throwing business difficulties to be addressed. Obtain first-hand experience in case solving to prepare for exhibiting financial, business, and collaboration abilities by solving real-life business issues, particularly in the context of the textile industry and its approaching vital difficulties. So buckle up!
Not only do you have the opportunity to build a network, but also to become acquainted with other highly ambitious and brilliant undergrad students from all around the nation. Do not miss out on this fabulous opportunity.
Eligibility criteria:
-Each team must have at least 3 members and at most 4 members
-Each member has to be from textile background & an undergrad student from the same institution.
Registration Fee:
– Secure your spot with just 600 tk!
– Register your team at bKash:
01717157856 ( Personal )
01790546159 ( Personal )
Nagad:
(Please Use send Money option)
Use Team Name as reference.
Copy transaction ID.
You will get a confirmation email within one day
For any queries : 01772-234574, 01647-106489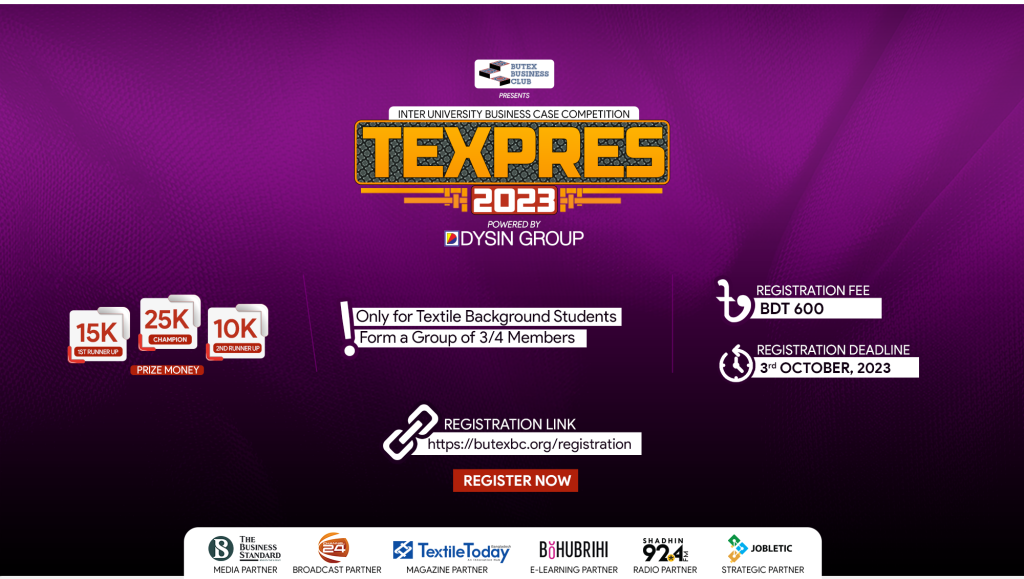 BUTEX BUSINESS CLUB
92 Shaheed Tajuddin Ahmed Avenue
Tejgaon Industrial Area, Dhaka – 1208, Bangladesh
© 2022 All Rights Reserved.